Skips For Renovators – Simplifying Skip Hire
With the Summer bringing the longer days, now is the prime time for home renovations & developments that would be otherwise impossible with the Winter weather. Home renovations bring many things to any home, with one of those being an excessive amount of construction waste. Whether you're renovating the entire property or just one room, there will always be waste that needs to be disposed of. It's this that ends up stumping a lot of home renovators since disposing of waste can be a confusing & difficult process to manage. Skips are in ideal solution for this, but we'll discuss this further in this article!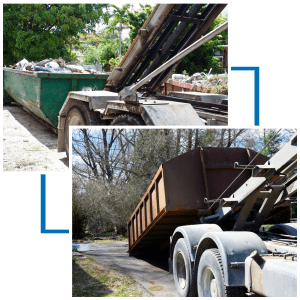 Why getting rid of your waste is hard:
The problem that most if not all budding developers/renovators have is getting rid of this excessive waste. Old wallpaper, pieces of scrap wood, chunks of plaster, empty paint tins, porcelain & even furniture can end up piling up making it difficult to dispose of. You could contemplate loading these things in a car/van and taking them to your local tip, but depending on your locality and whether or not you drive, this may not be a likely option. You also have to consider the time taken to do this, since you'll most likely have to do several trips especially for those that are doing entire home renovations.
Benefits of skip hire
There's an underlying reason that most people don't dispose of renovation/construction waste themselves since there are much easier alternatives on the market. If it hasn't occurred to you already, skip hire is one of those options as it makes for an all-in-one solution for those that are looking for a quick & easy waste disposal service. Instead of having to fill your car to the brim, or hire a van to take your waste to the tip, skip hire offers an easy option for those that just want rid of their waste! A skip can be dropped off on your premises or on the road if you don't have space (permit required).
Skip hire also gives you many options in terms of when & where you want your waste collected since this can all be scheduled & planned for. A skip will stay on your premises for however long you need it for, or can just remain on your premise for however long it takes for you to fill the skip! The skip is then collected and returned to you if you aren't finished with it. Skip hire provides a simple solution to getting rid of bulk amounts of waste from your property, taking the stress away from waste disposal.
A service that suits you
There are services on the market that are able to be customised to your needs if you're looking for something a little more bespoke. Whether you need a larger container or you need short or long term hire, a competent & professional company should be able to provide something for you. Some skip hire providers like Cardiff Skips can even provide a service called "Wait & Load" which is ideal for those that are unable to have a skip on their premises or our on the road (good for city developments where street access is limited).
Wait & Load is a great service for those that are looking for skip hire but haven't got the space to store a skip for an extended period of time. Wait & Load is also great because it's quick, easy & it also negates the need for a permit to store a skip on the street. With Wait & Load, a driver arrives on your premises, lowers the skip so that you can access it and will wait for you to fill it up with waste. Once full, the driver will take the waste straight to the facility, removing the need for any long term skip hire!
This is an option for those that are looking for an easy solution to dispose of their waste but can't make use of long term skip hire. Skip hire is a service provided by many, but true professionals are the ones that stay in the industry for decades.